HIGHWAY DEPARTMENT HOURS OF OPERATION:
Effective October 17, 2022, Highway Department office hours are from 7:00 a.m. to 3:00 p.m., Monday through Friday, excluding major holidays. 
Oregon/Jackson Street Bridge opening on November 16, 2022
The Winnebago County Highway Commission is pleased to announce that the Oregon/Jackson Street bridge will be open to vehicular traffic on November 16, 2022 at 3:00 p.m.  The original repairs were postponed due to manufacturing delays.  For further information, you may contact Mark Kantola of the Wisconsin Department of Transportation at: 920-492-4153 or [email protected].  Thank you for your patience during this time.
2022 NATIONAL WORK ZONE AWARENESS WEEK 
National Work Zone Awareness Week was held the week of April 11-15, 2022.  This year's theme was "work zones are a sign to slow down."  According to the WisDOT,  over the past five years there have been more than 15,000 work zone crashes killing 71 people and injuring more than 5,800.  Two employees of the Winnebago County Highway Department, Marc Neumeyer and Dan Melhorn, were fatally injured while working along I-41 back in March, 2006. A tragic day nobody wants to relive! 
Every driver makes a difference.  Your good choices behind the wheel are good for us all.  We ask everyone:
Be mindful of speed
Watch for changes in conditions
Eliminate all distractions - Buckle up - phones down!
We ask that drivers expect the unexpected and stay alert at all times. Our employees work very hard on doing great jobs for their communities, and just like you they want to make it home at night to their families.
2022 NAVIGATION SEASON CLOSED AT MIDNIGHT, SATURDAY, OCTOBER 15, 2022.
The Oshkosh lift bridges operate from 8:00 a.m. to midnight daily, starting in April each year.  The season ended on Saturday, October 15th at midnight.
COUNTY RD "P" PROJECT
Winnebago County is planning a reconstruction of CTH "P" from Wis 47 to Midway Road.  The first public involvement meeting is scheduled on July 28, 2022.  CTH "P" Public Meeting Information
The project is scheduled for the summer of 2025.
COUNTY RD "CB" AND "JJ" INTERSECTION PROJECT IS COMPLETE. 
The new roundabout opened to the public on Wednesday, September 28, 2022.  Thank you for your cooperation during construction.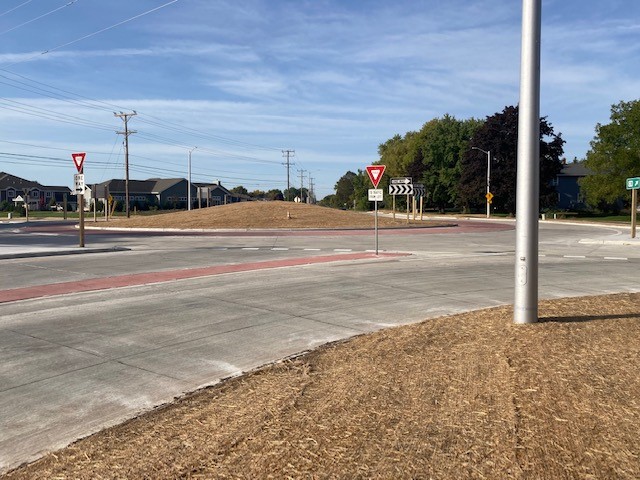 OREGON/JACKSON STREET BRIDGE IN OSHKOSH
The existing bridge was constructed in 1956 and is nearing its service life.  The Wisconsin Department of Transportation (WisDOT) determined in April of 2021, based on a bridge inspection, that several issues need to be addressed.  Construction is scheduled for summer of 2028. 
Additional information can be found here.
You may contact the WisDOT with questions or comments at:
920-360-3124 or [email protected]
920-492-4153 or [email protected]
ATV/UTV ROUTES AND REGULATIONS
The Winnebago County Board of Supervisors passed an ordinance at their meeting dated 9/17/19 allowing the use of all-terrain vehicles on certain county roads.  This becomes part of Section 7.16 of the General Code of Winnebago County and shall read as follows: 
WINNEBAGO COUNTY ROAD PROJECTS
The following projects within Winnebago County are in progress or are proposed. Check back here often for updates.  If you do travel through a work zone stay alert and obey all signs and flagmen.  Thank you for your patience and cooperation. 
RACINE STREET BRIDGE PROJECT UPDATE
OUT AND ABOUT IN WINNEBAGO COUNTY
If you're looking for the best routes for walking and bicycling in Winnebago County, there is a new resource for you.  The Winnebago County Trails Map, put together by the Winnebago County Bike/Ped Stakeholder Team, shows paved and unpaved routes, trails and facilities along with important amenities and features like public restrooms, points of interest, pet friendly areas, and fix-it stations.  The online map works on any smart device and printed maps will be finished soon.  For more information you can contact the Winnebago County Health Department at 920-232-3021.

Effective October 1, 2016 it became illegal to talk on a handheld mobile device while driving in a Wisconsin road work zone. 
Following the law is simple. Just remember: Orange cones – Put down the phones!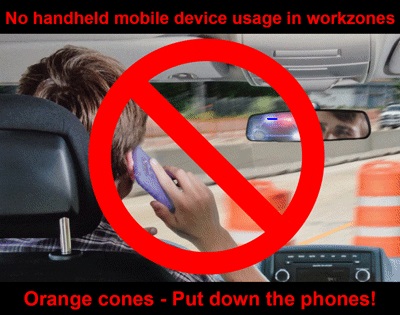 State of Wisconsin Road Construction
Visit WisDOT 511 for information on construction projects throughout the State of Wisconsin.