Breastfeeding (BF) Friendly Recognition means a business has established a supportive breastfeeding/pumping environment.
Breastfeeding is a natural and essential part of a baby's growth and development and should be supported and normalized in all settings. By participating in the Breastfeeding Friendly Recognition program, businesses and organizations will have the opportunity to showcase their commitment to inclusivity, family-friendly values, and community well-being.
Interested in becoming a Breastfeeding Friendly childcare center or business? Call us at 920-232-3000 or email health@winnebagocountywi.gov.

Childcare Centers
As a childcare provider, creating a breastfeeding friendly environment for both babies and their mothers is important. There are 10 steps to ensure your childcare center becomes breastfeeding friendly, including:
Educate yourself and your staff on the benefits of breastfeeding and how to support breastfeeding mothers. Staff should be trained on how to handle breast milk.
Make sure you have a comfortable and private space for mothers to breastfeed or pump. This can be a designated room or area set aside for this purpose.
Provide breastfeeding-friendly equipment, such as comfortable chairs, pillows, and nursing covers.
Develop policies that support breastfeeding, such as allowing mothers to breastfeed on demand and providing flexible schedules to allow for pumping breaks.
Communicate your breastfeeding-friendly policies to parents and staff. This can include providing information on your website, in your parent handbook, and during tours or orientation sessions.
For more information and what all 10 steps entail please check out the toolkit from the Wisconsin Department of Health Services.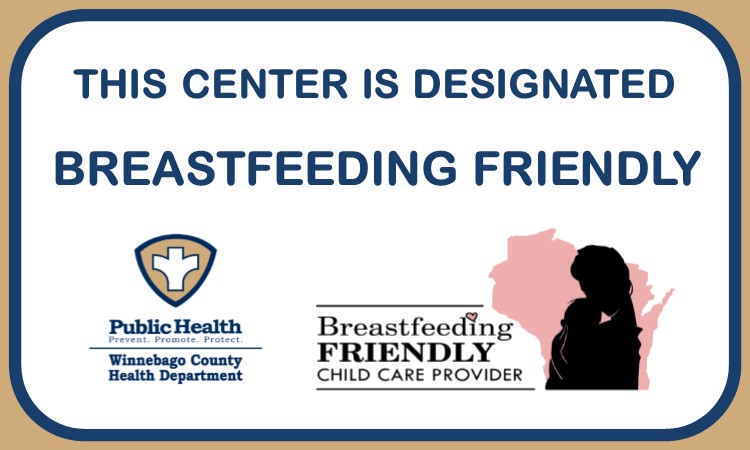 Businesses and Community Organizations
Childcare centers are not the only agencies that can be considered for recognition. Any public organization can contact our staff about implementing policy that supports BF practices. Business case is a comprehensive program designed to educate employers about the value of supporting breastfeeding employees in the workplace.
Visit womenshealth.gov for downloadable PDFs on the Business Case for Breastfeeding such as:
For Business Managers
Easy Steps to Supporting Breastfeeding Employees
Tool Kit: Resources For Building a Lactation Support Program
Employees' Guide to Breastfeeding and Working
Outreach Marketing Guide

Additional Information