The Wisconsin WIC Farmers Market Nutrition Program (FMNP) provides food benefits to WIC participants to be redeemed at farmers' markets June through October. This program offers an opportunity to purchase locally grown fresh fruits, vegetable and herbs. In addition to checks, families receive education and tips on how to prepare fresh produce. Most participants that recieve WIC benefits can receive Farmers Market checks up to $30 per participant (except infants who are up to 9 months old).
Farmer's Markets checks can be used June 1 - October 31 at any participating farmers' market or roadside stand throughout the state. Be sure to check that the farmers are WIC approved by looking for the yellow sign saying they are a WIC approved vendor.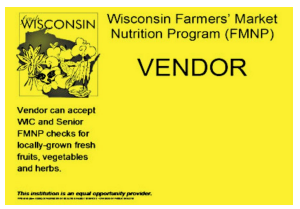 Please note the following when purchasing produce:
Change will not be given if you buy less than the amount of the check(s).

If the price of what you buy is higher than the amount of the check(s), you can make up the difference with cash or another check.

Checks cannot be used at grocery stores.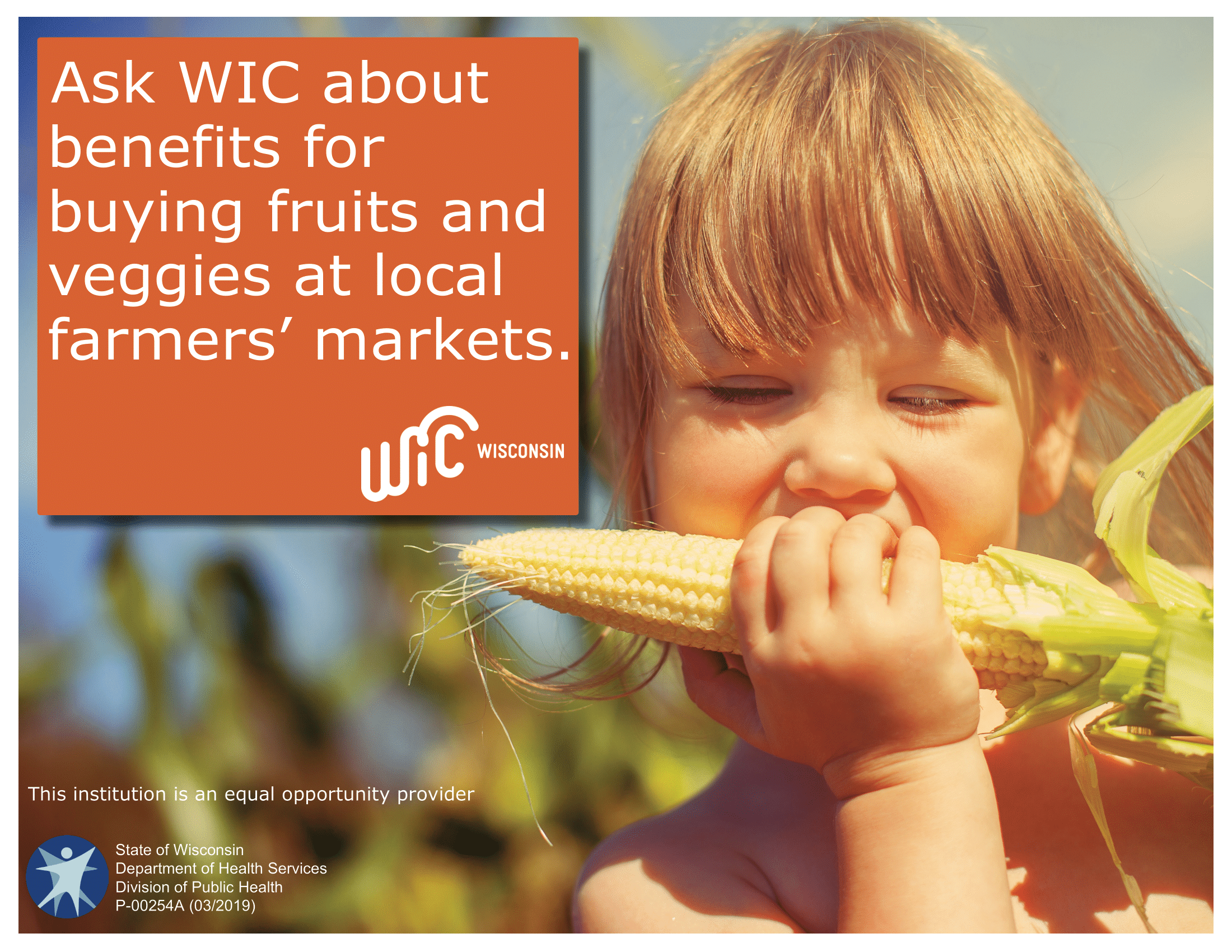 If you are interested in applying for WIC or if you are already participating and interested in receiving farm market benefits please contact the WIC office at 920-232-3350 (Oshkosh) or 920-729-2945 (Neenah).
LOCAL APPROVED MARKETS
Reminder: Checks can be used at any approved location throughout the state.
Thursdays
Oneida Farmers Market: N7332 Water Circle Pl,

Oneida

; June 16 to September 29; 12 to 6 PM
Market on Military: 1555 W Mason St,

Green Bay

; June 2 to October 27; 2 to 7 PM
Downtown De Pere Farm Market: 417 George St,

De Pere

; June 9 to September 22; 3 to 7 PM
Saturdays
Appleton Downtown Farm Market: 100-300 W College Ave,

Appleton

; June 18 to October 29; 8 AM to 12:30 PM
Kaukauna Farmers Market: 101 Crooks Ave,

Kaukauna

; June 18 to October 8; 7:30 AM to 12 PM
Future Neenah Farmers Market: 210 E Wisconsin Ave,

Neenah

; June 11 to October 15; 8 AM to 12 PM
Oshkosh Farmers Market: 400 and 500 Blocks of Main St,

Oshkosh

; June 4 to October 29; 8 AM to 12:30 PM
Green Bay Farmers Market: 200 S Washington St,

Green Bay

; June 4 to October 29; 7 AM to 12:30 PM
Additional Markets and Family Farms
Jim's Produce: 1122 W Wisconsin Ave,

Appleton

; Open Daily from June 1 to October 31; 12 to 6 PM
Porter's Patch: W4314 State Hwy 156,

Navarino

; June 1 to October 31; Hours vary - please visit porterspatch.com or call 715-758-8162 for hours
Hofacker's Hillside Orchard: W3964 Wege Rd,

Appleton

; September 1 to October 1; Open Daily: Monday through Friday 9 AM to 6 PM / Saturday 9 AM to 5 PM / Sunday 10 AM to 5 PM
Long Cheng Market Place: 1804 S Lawe St,

Appleton

; Open Daily from June 13 to October 31; 9 AM to 6 PM (note: this location may not have WIC approved vendors during all open hours)
Green Bay Market on Broadway: 200 N Broadway,

Green Bay

; Wednesdays June 1 to September 28; 3 to 8 PM (market closes at 7 PM in September)
The Little Farmer: N9438 Hwy 151,

Malone

; August 9 to October 31; Monday through Friday 8 AM to 6PM; Saturday and Sunday 10 AM to 6PM
Note: Farm stand opening and closing times are always weather permitting and dependent on what produce is available. Stands may close early if sold out for the day.
TIPS FOR SHOPPING AT FARMERS MARKETS
Shop early: Getting to the market early means getting the best selection.

Do a lap: Walk through the market first to see what is available.

Bring reusable bags: A canvas bag is a great way to safely carry all your fresh fruits and vegetables.

Try something new: Take some time to speak with the farmers - they often have great tips on how to best eat or prepare their produce
ADDITIONAL RESOURCES: